Sigil
Days
of
the
Month
(1) Sunday
1st Lady
Factol's Day
(2) Monday
1st Market
(3) Tuesday
1st Guild
(4) Wednesday
1st Clerk
(5) Thursday
1st Hive
(6) Friday
1st Low
(7) Saturday
1st Void
(8) Sunday
2nd Lady
(9) Monday
2nd Market
(10) Tuesday
2nd Guild
(11) Wednesday
2nd Clerk
Taker's Day
(12) Thursday
2nd Hive
(13) Friday
2nd Low
(14) Saturday
2nd Void
(15) Sunday
3rd Lady
(16) Monday
3rd Market
(17) Tuesday
3rd Guild
(18) Wednesday
3rd Clerk
(19) Thursday
3rd Hive
(20) Friday
3rd Low
(21) Saturday
3rd Void
(22) Sunday
4th Lady
(23) Monday
4th Market
(24) Tuesday
4th Guild
(25) Wednesday
4th Clerk
Taker's Day
(26) Thursday
4th Hive
(27) Friday
4th Low
(28) Saturday
4th Void
| Month | Sigil Month |
| --- | --- |
| January | Regula |
| February | Accordat |
| March | Retributus |
| April | Narciss |
| May | Tithing |
| June | Savorus |
| July | The Pivot |
| August | Catechism |
| September | Sacrilegion |
| October | Nihilum |
| November | Mortis |
| December | Decadre |
| Thirteenth Month | Capricious |
| ~New Year~ | Leagueheim |
| Current Year | Sigil Year |
| --- | --- |
| 2016 | 132Ha |
| 2015 | 131Ha |
| 2014 | 130Ha |
| 2013 | 129Ha |
| 2012 | 128Ha |
| 2011 | 127Ha |
| 2010 | 126Ha |
| 2009 | 125Ha |
| 2008 | 124Ha |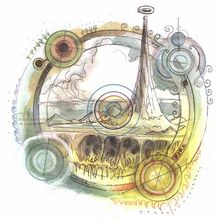 The Sigilian Year consists of thirteen months, each sponsored by one of the represented factions in Sigil. Thus, the Free League - who claim not to be a faction - and the Revolutionary League - who have no unifying leader - do not have a month named after them. (At least, not officially.) Twelve of the months are grouped into four "seasons" of three months in length, with each season being a collection of like-minded factions. The thirteenth month stands on its own between the "summer" and the "autumn". All months are 28 days long, which are divided up into four weeks, consisting of seven days each. The days are named after the various wards of Sigil, with the last being named for the Nothing one can see beyond the borders of the Cage. The names, in order, are: Lady, Market, Guild, Clerk, Hive, Low, Void. One interesting thing to note is that while each day of the week is named, none of them are numbered. That is, the third day of the month is referred to as "the first Guild of the month", the eighth day is "the second Lady", and so on.
Pages in category "Calendar"
Ad blocker interference detected!
Wikia is a free-to-use site that makes money from advertising. We have a modified experience for viewers using ad blockers

Wikia is not accessible if you've made further modifications. Remove the custom ad blocker rule(s) and the page will load as expected.